USOSA - UNITY SCHOOLS OLD STUDENTS ASSOCIATION, is the umbrella body for all Unity Schools in Nigeria and FLOGA is about to make history! For the first time, FLOGA will be advancing her cause on the Federal Level. We will be joining the ranks of those who get to make input in matters that affect the Nigerian education landscape as a whole and our alma mater in particular.
FLOGA finally gets a voice! One of our own will be contesting for the position of Public Relations Officer (P.R.O) in the forth coming USOSA Elections. Her name is Kate Pam (1996).
These first steps towards national relevance however, are in danger of being stopped abruptly. A hurdle lies in our path in the form of outstanding debts. FLOGA has been unable to pay her USOSA Annual dues for the past 5 years (#500,000.00 at #100,000.00 per annum). Last year, we made a feeble attempt through donations from FLOGA Chapters to pay up #150,000.00 leaving a balance of #350,000.00 (Three Hundred and Fifty Thousand Naira Only).
The 350 for 1000 Campaign is being flagged off to help us raise funds to clear this debt in order to clear the way for our candidate - Kate Pam to successfully contest for the post of USOSA Public Relations Officer - P.R.O. If 350 FLOGA-ites donate #1,000.00 (One Thousand Naira Only), we can make it!
One Thousand Naira only from 350 girls and we've got a fighting chance. (If you can afford to give more, please do.)
Let's pledge our support the 350 for 1000 Campaign.
To donate, please pay #1,000.00 (One Thousand Naira Only) into the FGGC LANGTANG ALUMNI ASS. (FLOGA NATIONAL) - DIAMOND BANK ACCOUNT - 0075326479
Send an SMS - "TFOC" - to 08034865490 when this is done.
Together, we can make a real difference!
PS: Our deadline of April 1st 2016 has passed and FLOGA was able to raise just about 70% (#250,000) of the money. This has earned us a validation to contest the elections but we are not out of the woods yet. We have promised to pay up the balance in a very short time. Please keep sending in your donations.
A LITTLE ABOUT OUR CANDIDATE - KATE PAM
Kate Pam graduated from F.G.G.C Langtang in 1996.
She is a seasoned Business Development Consultant with over 12 years of experience in financial services sector in business development, wealth and client relationship management. She is the Principal Consultant/CEO of Stalwart Business Consult a marketing and business development consulting firm which has offices in Nigeria and the UK.
She is also Partner at Vichi Resources Consult, an educational consulting firm; and Leading Director of Stalwart Communities, a social enterprise with offices in Nigeria and the UK, that presents a programme of co-ordinated educational and social developments, drawing upon existing community and family strengths, to prepare more children and young people, more thoroughly and more appropriately, for Nigerian life tomorrow and beyond, to promote the skills of teachers, other professionals and community practitioners who will lead this work, and to create sound financial and administrative structures that will ensure lasting success through changing times.
Prior to setting up SBC, she was Head of Business Development at Nexia Nigeria, worked as an ICT Learning Support Assistant for Special Education Needs (SEN) students at Shooters Hill College, London; UK; Associate Project Manager& PMO Coordinator, ICT with Dollar Financial Corporation, Nottingham, UK; Head of Wealth Management with Northbridge Investment & Trust Ltd, Abuja and Wealth/Business Development Executive at BGL Plc in Port Harcourt, Nigeria.
She has MBAs in Marketing from Grenoble Graduate School of Business and Global Management from London Metropolitan University – with specializations in Project Management & Leadership; and Performance Management & Control. She has a Bachelor of Technology degree in Agricultural Economics & Extension from Abubakar Tafawa Balewa University, Bauchi. Kate is a Certified International Manager and an Associate of the Nigerian Institute of Management (NIM) and Institute of Capital Market Registrars (ICMR). She is also a member of the Project Management Institute (PMI).
She and has engaged in a variety of community-serving activities including the #PlateauSpeaks advocacy for peace in north central Nigeria, worked a SEN Teaching Assistant in various schools across London, volunteered in various charities such as Widows and Orphans International (WORPHAN) UK, kids church leader at Hillsong Church London. She also serves as member of the Committee on Mobilization of the Unity Schools Old Students' Association (USOSA). She has a sustained yet passionate interest in the place of women in society, and seeks always to empower them in every realm of life.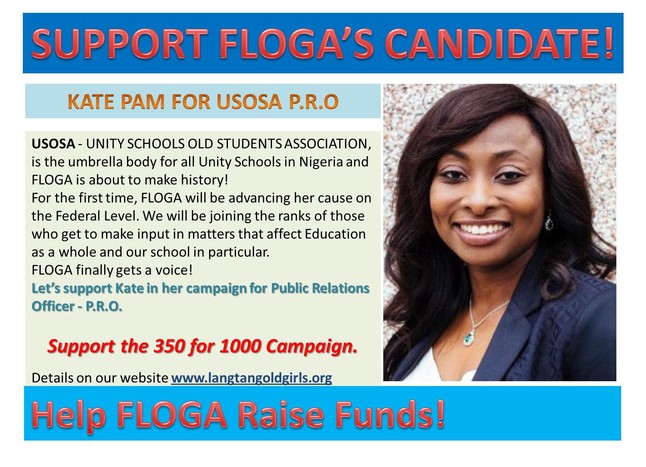 THE JOURNEY SO FAR
19TH APRIL, 2016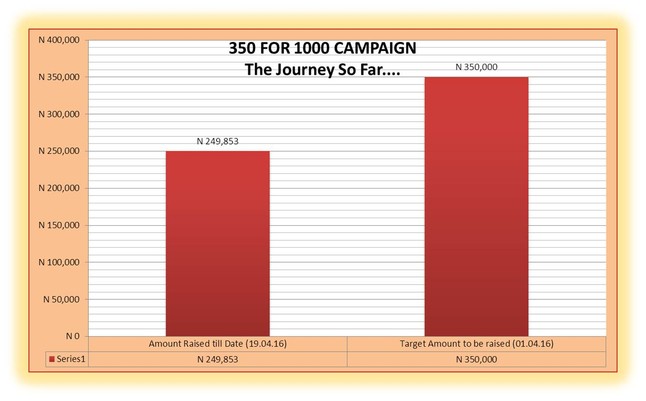 WE'VE RAISED 71% OF THE TARGET. WOOHOO!!
THE DONOR HONOUR ROLL
PAYMENTS RECEIVED INTO FLOGA NATIONAL ACCOUNT
350 FOR 1000 CAMPAIGN - TFOC
S/N
NAME
AMOUNT PAID
DATE PAID (2016)
1
TOKUNBO IFATUROTI
N 1,000
17-Mar
2
OLABISI OSAGIE
N 10,000
17-Mar
3
NAOMI EMENIKE ONUOHA
N 3,500
17-Mar
4
TAIWO SERIKI
N 5,000
18-Mar
5
BERNADETTE AKUYE-GBEFWI
N 1,000
18-Mar
6
KANAYO ADETORO
N 1,000
18-Mar
7
VIVIAN OZOEKWE
N 1,000
18-Mar
8
NANFE MINER
N 1,000
18-Mar
9
KANGYANG NASH
N 1,000
18-Mar
10
NANKLING NYINEBI
N 1,000
18-Mar
11
AISHA ABBAS
N 5,000
19-Mar
12
MARCELINA NWOBIKE
N 1,000
19-Mar
13
FATI MURITAL-IBRAHIM
N 5,000
20-Mar
14
QUEEN AMANKWE
N 1,000
21-Mar
15
NKECHI KWALMI
N 5,000
21-Mar
16
KATE PAM AND OTHER 96SET
N 30,000
21-Mar
17
NKIRUKA PEDRO-IYALLA
N 5,000
21-Mar
18
PYEMWA DESHI
N 1,000
21-Mar
19
ETHEL OKPOTU
N 1,000
21-Mar
20
CHIJINDU ONYENKWERE
N 1,000
22-Mar
21
FRANCISCA UGURU
N 2,000
23-Mar
22
FRANCISCA ONWUKA
N 1,000
23-Mar
23
CARMEL KATSINA ALU
N 2,000
23-Mar
24
CHIOMA UGWU UKAMA
N 1,000
22-Mar
25
OKWUCHI UGORJI
N 5,000
22-Mar
26
NGOZIKA DIKE BENITA
N 2,000
23-Mar
27
JUBET ROTMWA
N 2,000
23-Mar
28
NKIRU UMEKWE
N 1,000
23-Mar
29
MAUREEN SANI
N 1,000
24-Mar
30
ANGELA MOGOR
N 1,000
24-Mar
31
VIVIAN DUTSE
N 1,000
24-Mar
32
JUDITH LAWAM
N 1,000
24-Mar
33
DAKUP KATSEN LAMAN
N 1,000
24-Mar
34
UTIBE ROSEMARY BASSEY
N 1,000
24-Mar
35
TONGNAAN DADA BAWA
N 1,000
24-Mar
36
GRACE GANGSON WANG
N 3,000
24-Mar
37
ANDOKA MICHAEL
N 1,000
25-Mar
38
SOEMNAAN BENITA LAWAM
N 1,000
25-Mar
39
MISANA MARWAN
N 1,000
27-Mar
40
RIZPAH SUNDAY
N 2,000
29-Mar
41
MOTUNRAYO OGUNDIRAN
N 1,000
29-Mar
42
BOLANLE OGUNDIRAN
N 1,000
29-Mar
43
IFEOMA BADEJO
N 10,000
29-Mar
44
BUSOLA ABIMBOLA
N 5,000
29-Mar
45
VENKAT FANNAP
N 1,000
29-Mar
46
FATIMA JIBRIN
N 5,000
29-Mar
47
KYEMPIYA JAMES
N 2,000
29-Mar
48
VICTORIA AKANNI
N 1,000
29-Mar
49
NOROH CHUWANG
N 1,000
29-Mar
50
MAKCIT RINDAP
N 1,000
29-Mar
51
MANWOR GWATAU
N 1,000
29-Mar
52
NANYI NIMZING
N 1,000
29-Mar
53
SINGIE WUYEP
N 1,000
29-Mar
54
OLUBUNMI BANKOLE
N 1,000
29-Mar
55
OLUBUNMI OLAPADE
N 1,000
29-Mar
56
ZAINAB ALIYU GARBA
N 1,000
29-Mar
57
NJIDEKA ASUZU
N 1,000
29-Mar
58
TOMI ONOVIRAN
N 1,000
29-Mar
59
IRENE AKHIDENOR
N 1,000
29-Mar
60
MANDONG UKUNGO
N 1,000
29-Mar
61
KANENG PAM SALAMI
N 6,000
30-Mar
62
ISOKEN IGHOH
N 5,000
30-Mar
63
SALMA IBRAHIM
N 5,000
30-Mar
64
RUTH NDAM
N 1,000
30-Mar
65
VICTORIA IJAMPY
N 1,000
30-Mar
66
NOBLEGATE SCHOOLS
N 2,000
30-Mar
67
LOHNA BONKAT ZWALNAN
N 1,000
30-Mar
68
ANGELA OGAR
N 2,000
30-Mar
69
EBUNOLUWA OLOYEDE
N 1,000
31-Mar
70
LUCY OBIEKWE
N 1,000
31-Mar
71
OZI AKU ELIZABETH
N 1,000
31-Mar
72
FLORENCE EZE GOODLUCK
N 1,000
31-Mar
73
SALOME MAGAJI
N 1,000
31-Mar
74
UMMA SULAIMAN
N 5,000
31-Mar
75
JUWANAH AMFANI ELKANAH
N 350
31-Mar
76
KASFAST SERVICES LIMITED
N 5,003
31-Mar
77
SARAH AMARK
N 1,000
31-Mar
78
JANE CHINWE ORJIANI
N 1,000
31-Mar
79
TIMKAT BENAIAH
N 1,000
31-Mar
80
ABIGAIL PWAJOK PWAJOM
N 3,000
31-Mar
81
HAFSAT HASSANA
N 2,000
31-Mar
82
LYDIA ALUMA ASHEDZI
N 1,000
1-Apr
83
OBY ONOWU OKWUKA
N 1,000
1-Apr
84
OLUWAFEMI-ISRAEL MODUPELOLA
N 2,500
1-Apr
85
KEMI AKINSANYA
N 2,500
1-Apr
86
SHEILA KEHINDE
N 1,000
1-Apr
87
OLUWAKEMI IBODJE
N 2,000
2-Apr
88
YETUNDE SHAKIRAT BAMGBOPA
N 1,000
2-Apr
89
UDUAK JOHNSON OLUDEMI
N 2,000
2-Apr
94
PLANGNAN JOSIAH DARFUR
N 1,000
4-Apr
95
LILLIAN AGHARESE
N 10,000
4-Apr
96
ALAO JENNIFER
N 5,000
5-Apr
97
MANRE CHIRTAU
N 1,000
7-Apr
98
NANFE MAURICE GAMBO
N 10,000
7-Apr
99
ETHEL A. COLLINS UKAKU
N 3,000
7-Apr
100
NANCY DAGUN
N 1,000
10-Apr
101
GWAMKAT DAUDU BONCWAT
N 2,000
11-Apr
102
SOTONYE EDOHORE
N 7,000
15-Apr
103
RHODA ISHAKU
N 1,000
18-Apr
N 249,853
THANK YOU SO MUCH FOR GIVING!